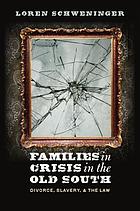 Professor Loren Schweninger has published
Families in Crisis in the Old South: Divorce, Slavery and the Law.
In this book, Schweninger explores the impact of divorce and separation on white families and on the enslaved and provides insights on issues including domestic violence, interracial adultery, alcoholism, insanity, and property relations in the antebellum South.
The University Libraries collaborated with Professor Schweninger on the
Digital Library on American Slavery
, a searchable database of detailed personal information about slaves, slaveholders, and free people of color. Freely available and open to the public, the database includes information from legislative and county court petitions, as well as other legal documents, that Professor Schweninger uncovered over an eighteen-year period.
Learn more about Professor Schweninger and his reserarch on his
UNCG homepage
and the
publisher's website.